Inkwear 'Factory' Bespoke Tattoos  500+ tattoos

For transfer tattoo orders of 500+ we use a higher quality of tattoo (best in the world!). You're restricted to one design per 500 pieces & price is affected only by size of the tattoo sheet. Great economies of scale, the transfer tattoos are cut and ready to apply with fully customisable instructions on the back. Foil options also available. Ideal for promotions, parties and to retail. See below price grid for prices.
*Inkwear tattoos are the only UK based tattoos legally approved by the Cosmetic portal CPNP (you must have this for Europe retail), we sell in all major Supermarkets.


Packaging options also available. Ideal for larger quantities and ready in twelve  straight days. Prices can be seen below or email custom@inkwear.co.uk for a quote and we're always happy to price match.


'Factory' Tattoo Prices:
500 + tattoos 'Factory' process
All tattoos have a sheet size of at least 1.5 x 1.5″ and you can expect most orders to take around 12 straight days to arrive. You can see our basic prices below in £ sterling, all subject to 20% VAT but include shipping to one UK address. Larger orders & sizes also available along with foils and glitter options. Email custom@inkwear.co.uk for a quote.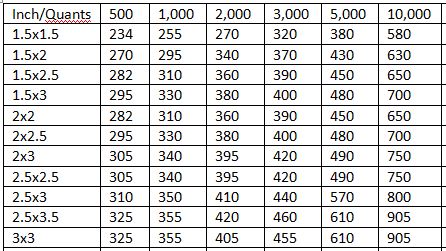 Sell Inkwear Tattoos!

Currently EXPLODING in Topshop, ASOS Amazon and many international retailers. If you're interested in selling any Inkwear products please contact adam@inkwear.co.uk for our wholesale info.

Pub or Bar? Try our new tattoo Hanging Strips full of party tattoos as pictured below. Sold as a unit with 6 best-selling fun designs all ready to go out of the box! A Fun alternative to bar snacks with big potential earnings. £80 starter pack just contact adam@inkwear.co.uk 02075034139