Luki and Anita show us how to carefully apply beautiful Inkwear temporary tattoos.
Factory made tattoos are die cut and don't need cutting out.
Avoid the eye area, do not apply to sensitive skin and keep out of direct sunlight. All Inkwear designs are safe and non-toxic but are not recommended for ages 5 and below, if a reaction occurs simply remove with oil based products.
For more refined Inkwear results: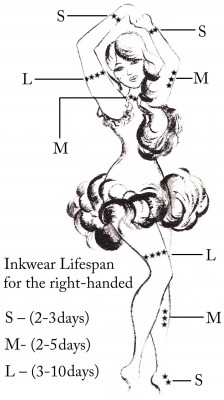 Choose hair-free areas away from moving joints and try to avoid stretching the design for the first hour or so.
As a rule the larger the temporary tattoo, the longer it will last so you should be careful with the more delicate Inkwear designs such as wrist chains.
Think carefully about where to put your tattoo. The designs are most affected by rubbing so consider this when applying.
Inkwear temporary tattoo usually appears shiny or wrinkly when first applied, this shine disappears as the special glues dry but if you can't wait you may want to use a hair dryer or try powdering (with talc/makeup) and then washing the tattoo.
Although the Inkwear you receive in the post may be already semi hand-cut you should always cut out the image yourself as close to the ink as possible.
Be creative with the tattoos. You can cut, trim, shape, join and place them however you like.
Finally Inkwear recommends rubbing in baby oil as the most effective method of removing your temporary tattoo.