APPLYING INKWEAR TEMPORARY TATTOOS
Luki and Anita show us how to carefully apply beautiful Inkwear temporary tattoos.
Custom 'Factory' or Inkwear Shop tattoos are die-printed and don't need cutting out.
For longer lasting, more realistic 'FAST' A4 CUSTOM TATTOOS try our DE-SHINE GEL or: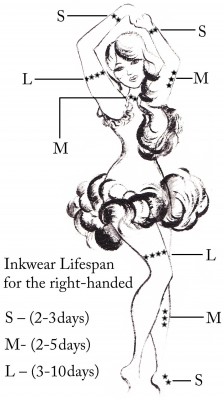 1. Remove the transparent top sheet and discard. Making sure that the skin is clean and dry.
2. Place the tattoo face down, onto the desired area and soak the backing paper.
3. Hold for 30 seconds and then gently slide (not peel) the paper away. Wash/wipe away the release gel.
* To increase lifespan to 3-10 days and make appear more real, PLEASE FOLLOW THE NEXT STEPS.
4. Over the top of the tattoo apply a layer of Translucent Powder or talc.
5. Then dab over a thin layer of Pros- Aide Adhesive & wait until dry.
6. Add one last dab of Translucent Powder. Remove any excess powder with water or Matte Makeup Sealer Spray.
* If back of the tattoo is blank, you will need to cut around the tattoo yourself as close to the ink as possible

.
TO REMOVE: Use a cotton wool pad with baby oil or alcohol, place on the tattoo for 10 seconds and then rub until removed.
*Avoid the eye area, do not apply to sensitive skin and keep out of direct sunlight. All Inkwear designs are safe and non-toxic but are not recommended for ages 3 and below, if a reaction occurs simply remove with oil based products.