HIRE INKWEAR!
Have your logo turned into a tattoo or choose from a themed selection with our tattoo artists dressed to match. Inkwear are seasoned temp tattoo producers with a strong high-street and supermarket presence. Now we offer the opportunity to tailor your event with your own tattoo designs applied by our water-pistol wielding temp tattoo artists and tattoo bar. Perfect for product launches, parties and corporate events of any scale.
Contact: adam@inkwear.co.uk for more details on prices etc…
All packages are completely flexible in scale and can include any of the following:
* Any quantity of completely bespoke tattoos 
* A range of our own highest quality designer tattoos, themed to match your event. Prices start at £300 for a mix of 300 tattoos.
* Highly trained water-pistol wielding Temp Tattoo Artists to apply your themed tattoos, 3 hour min. hire at £50 per artist p/h. The artists can also wear fully branded items.
* 3 hour hire of our fantastic Tattoo Bar (2×1.5 metres, pictured) for £300 (obligatory)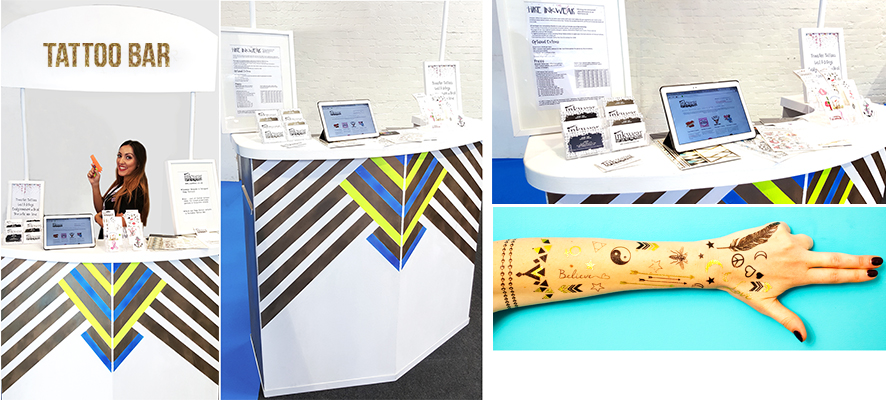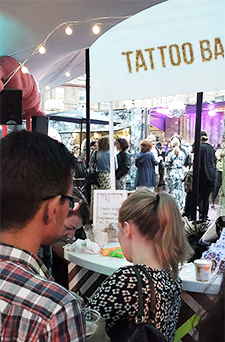 OPTIONAL EXTRAS:
* Reduced day – hire rates available
* Extra hours, £150 per hour
* 500 + custom high quality tattoos (12 day lead time)
perfect for giveaways & promotions,
* Additional temp tattoos artists
* Gold & silver foil custom tattoos
* Outside of London travel rates
Bespoke Factory Tattoo sample: